Limerick Bastille Day and Wild Geese Festival
Sunday 19th July at 2pm in King John's Castle.
National Day of Commemoration
Details to follow
Post 6 Meetings
Next meeting, Thursday 30th June at 8pm in the NCOs Mess
Friday Club:
Friday Club, 23/June at 10.30am in the NCOs Mess.
National Veteran's Day
National Veterans Day takes place in McKee Barracks Dublin at 2pm on 19th June.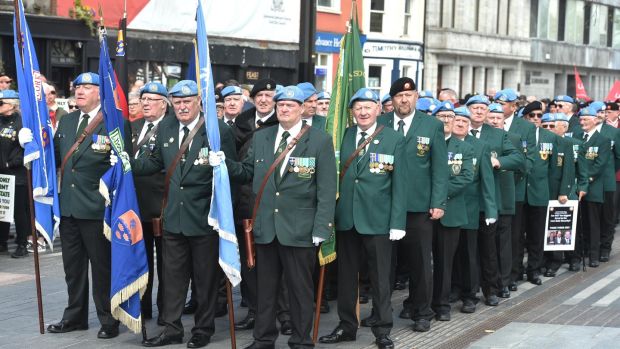 Attending the Respect and Loyalty Parade in Cork City on Saturday 04/May/19
When visiting the www.iunva.ie page, you can return to iunvalimerick by scrolling to the Services and Information page, in the drop down menu, click on useful links and scroll down to Post 6 Limerick. You can also scroll down to kenslebphotos on this page.
You can visit www.iunva.ie by clicking on the link in the links page.
If there are photographs or articles about you on this site and you wish to have them removed, please contact me on +353863488118.

This is in conjunction with the Data Protection Regulation recently issued.
You can also send an email to kenobrien@iunvalimerickpostno6.net.
Not getting updates from IUNVA or your Post
Are you a member of IUNVA, paying your fees through your pension.
If so and you are not getting updates from your local post. It may be, because the Post is inactive, you can contact Ken OBrien on 0863488118 or IUNVA HQ to check your present status.
You may be a member, but your details might not be up to date.
Compilation of List of Surviving Congo Members.
Muiris de Barra, who served with the 1st Infantry Group in the Congo,
has been in contact, asking if I could forward the following links.

He is trying to compile a list of surviving members,
that served with any Unit in the Congo.


Defence Forces Community Facebook page: https://www.facebook.com/groups/1023750541144538
Irish.U.N in the Congo Facebook page:https://www.facebook.com/groups/484258971608285
List your name and number, along with your home unit and any Congo Units.
Please do not enter, any deceased members.
He is hoping to make contact with John ONeill, 12th Bn who served,
with the 1st Infantry Group, who was involved in handing over a Monkey,
that was brought home from the Congo, to Dublin Zoo.
Update: The John ONeill that we were trying to locate, was in fact known by all of us, as Charlie ONeill RIP.


If you cannot load the details, forward them to me and I will pass them on.
____________________________________________
Joe Fallon, has kindly agreed to donate all proceeds from this book to ONE and IUNVA, to assist in caring for ex members, through their Centres across the Country.
By purchasing the book from Kieran Jordan, the full cost of the book goes into the fund.
So if you wish to purchase a book, please contact me and I will arrange with Kieran to get a copy for you.


Post 6 News.
IUNVA Membership of €24 and Post Fees of €6 are due.
These fees must be paid by 31st of December each year. Please note that failure to pay these fees could result in your membership being cancelled. Those that pay membership through their pension are required to pay the Post fees of €6, to the Post Treasurer.
While all those that pay membership fees to the post, are required to pay Membership and Fees of €30 to the Post Treasurer. We will send a text to each member in the coming days.
The Post AGM, finally took place on the 10th of February. Joe Hayes, Chairman. Ken OBrien, Secretary. Pat Deedigan, Treasurer. Mick Walsh, Clothing Officer, Pa Hogan, Billy McGrath, Murty Hanley and Tony Stack, Committee. We are always looking for members to help us run the Post, so if you can offer your assistance, please contact us.


The Friday Morning club is back up and running, but again this is subject to change


The current Post Newsletter, Vol 3, Issue 7 is available on the Newsletter page, while we will email a copy to those that forward their email address.
Next Issue Due June.
Details on Post activities will be sent out in text form later.
Text and Email scams.
A number of people have been on, saying they are not getting texts or notifications. Please check that your mailbox or voicemail box is not full. You should clear these on a regular basis as you have only a small storage space. If you are not getting any messages from me, please contact me and we will try to sort it out.

Fraudsters are still attempting to scam people and their methods keep changing. Please be aware and do not accept request for money through texts or emails. Also do not reply to any calls from numbers, that you are not sure of, if the person is genuine, they will leave a message or send you a text. At this point we must assume that a call or text, is not genuine until we check it out.

Please do not reply to any calls from these numbers, if you do not know who the caller is. This applies to voicemail and also emails. If the person calling has not made themselves visible to you, please block the number and if necessary contact the Authorities or Gardai.

For those of us feeling anxious and lonely, the HSE have added a contact number for those of us who wish to speak to someone about our problems.




Text Hello to 50808 day or night, someone will contact you to discuss your worries, or if need be, feel free to ring Ken on 086 3488118.



Lets us also remember our comrades and family that have passed away in the last 12 Months, We are thinking of you all, at this time.
Changes to Military Pension Help Desk.

The National Shared Services Office (NSSO) wish to inform you of the
following changes taking place with regard to the Defence Forces' Pension payroll.

The Military Pension payroll and Helpdesk support is currently managed and administered by NSSO-PSS based in Galway.

The processing of the Military Pension payroll is transferring from NSSO-PSS Galway to NSSO-PSS Tullamore. Galway will process the final payments for the payroll for pay date 30 September 2020. The first payment processed from Tullamore will be for pay date 30 October 2020.

The postal address of the Tullamore office is:
Military Pensions Payroll,
Payroll Shared Services,
National Shared Service Office,
R35 W7A4

The Helpdesk service will be incorporated into the NSSO's main Helpdesk service with effect from 28 September. Following an improvement programme
during the Summer of 2020, the NSSO's Helpdesk functionality has been upgraded.
The customer relations team, based in Payroll Shared Service Helpdesk, Deerpark Road, Killarney, Co Kerry, V93 KH28, with specific payroll and pension expertise, will provide the Helpdesk support to Military pensioners. The telephone and email contact details for the Helpdesk service - 076 1002702 is unchanged.

*Training and Experience of NSSO staff in Tullamore and Killarney*

The training and transfer of knowledge from Galway has commenced and is ongoing.

All of the new staff in Tullamore have significant payroll experience.
Over 40,000 pensioners (across 13 pay groups) are currently processed in Tullamore. As a result of this, the NSSO has, and continues to, grow a significant and deep expertise in the pension function at this location.
In addition the extensive knowledge of the team of the unique requirements that apply across the range of Public Service Pensions has been developed through both formal and on the job training.

The Helpdesk in Killarney currently provides a similar service for other clients and have significant experience in their roles. The level of service given by NSSO Tullamore and Killarney will be the same as that previously provided by NSSO Galway.

The Pensions Administration function remains with the Department of Defence in Renmore, Galway and there are no changes in that regard.


On the drop down link on this page, is the Post Newsletter.
You can check on what is happening or get information on subjects that might be of interest to you.
If you wish to have the Newsletter mailed to you, please forward your email address to Ken OBrien
_________________________________________
From the Committee of Post 6 and IUNVA, please follow the recommended directions in relation to COVID-19.
Please keep safe, if you are isolated and need assistance, please contact Ken on 086 3488118, we will try and assist in any way we can.


___________________________________________________________
ANSAC Credit Union
ANSAC CU, who sponsor our Newsletter have put in place a number of options to assist members at this very trying time. If you are unsure of what to do, give the office a ring and the very helpful staff will guide you through your options.



Post 6,
Does not condone Racism or Bullying in any shape or form.


Mia's Army
OnelifeIreland, is a non profit charity in process of registration that was set up by former soldier William O Neill and his daughter Aisling O Neill following the tragic death by suicide of Mia O Neill (16) on 06.09.2019.
Following years of racial abuse and bullying that began at the age of 4. Mia was Willie's granddaughter.
Mia's Army are a group of youths who have formed following Mia's tragic and preventable loss. They are committed, passionate and relentless in their fight to bring more awareness to the racism that exists in today's society, encouraging a change in the social interactions of youths, inspiring others to break the stigma surrounding mental health and eventually to raise much
needed funding to improve existing mental health services.

Statement :-
We want to spread a positive and uplifting message to youths that they are not alone and it's ok not to be ok. The root of our message is, to always #bekind ????

Mia's Army is not just for people who knew Mia on a personal level.
Mia's Army is for anyone who has been a victim of racial abuse and bullying.
Mia's Army is for anyone who struggles with mental health and wants to promote and support change.
Mia's Army is about positive awareness and bringing a fun and inspiring message that will give others hope.


Mia's Army is all inclusive!
Have you left ANSAC CU, it is possible to re apply.
Post 6 Annual General Meeting 2022.
At the AGM, the following were elected to serve as the Post Committee, for 2020.
Chairman: Joe Hayes.
Secretary: Ken OBrien
Tresurer: Pat Deedigan
Clothing Officer: Rama Walsh
Committee: Pa Hogan, Billy McGrath, Murty Hanley.
Delegates to National Meetings: Ken OBrien, there is a vacancy for anther Delegate and reserve Delegate, to represent Post 6 at the Delegate meetings.
New or Lapsed Members

Post 6, would like to welcome any new members that wish to join IUNVA, or indeed welcome back any lapsed members.
Serving members of Defence Forces may join IUNVA.
A Veteran does not mean a retired Soldier, in this case it means, a person that has Served Overseas with the UN.
If you wish to join or rejoin, contact any current Post Member, for details. Post No 6 would like to build on its current strength and would welcome any help in that matter.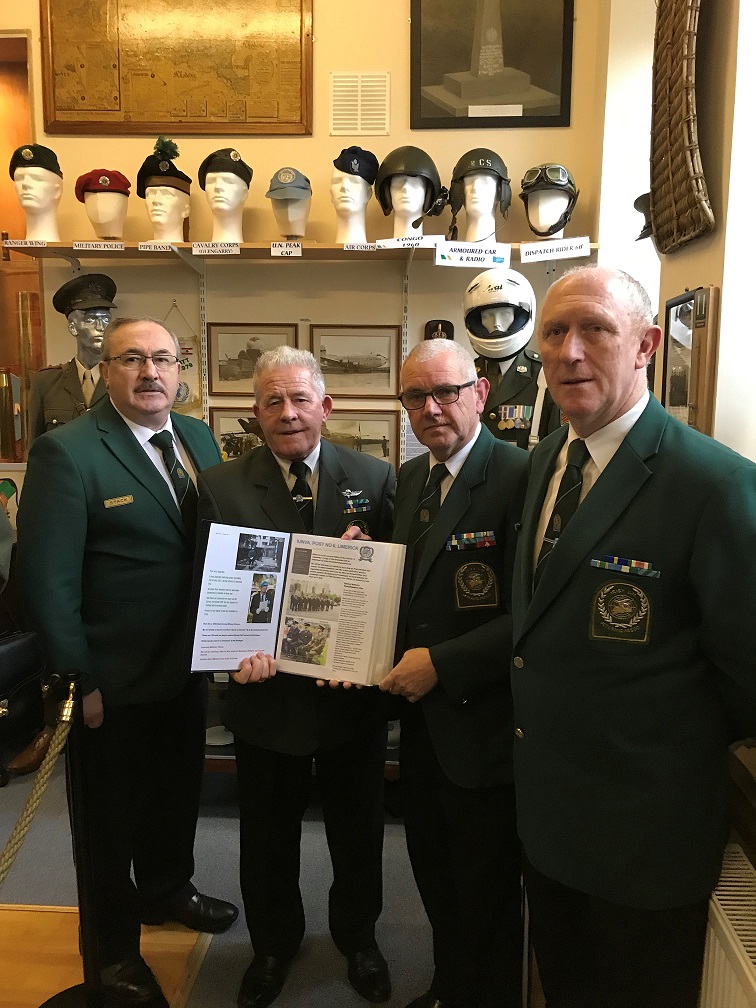 At the handover of the Post No 6 Newsletter to IUNVA HQ for the Museum, Tony Stack Post No 6 Delegate, Jim Casey IUNVA Chairman, Tony Liddy Post No 6 Delegate, Charlie Mott IUNVA Secretary.
The Newsletter is issued every two months and is also available on this website or can be emailed to individuals.
For details contact Ken OBrien on 086 3488118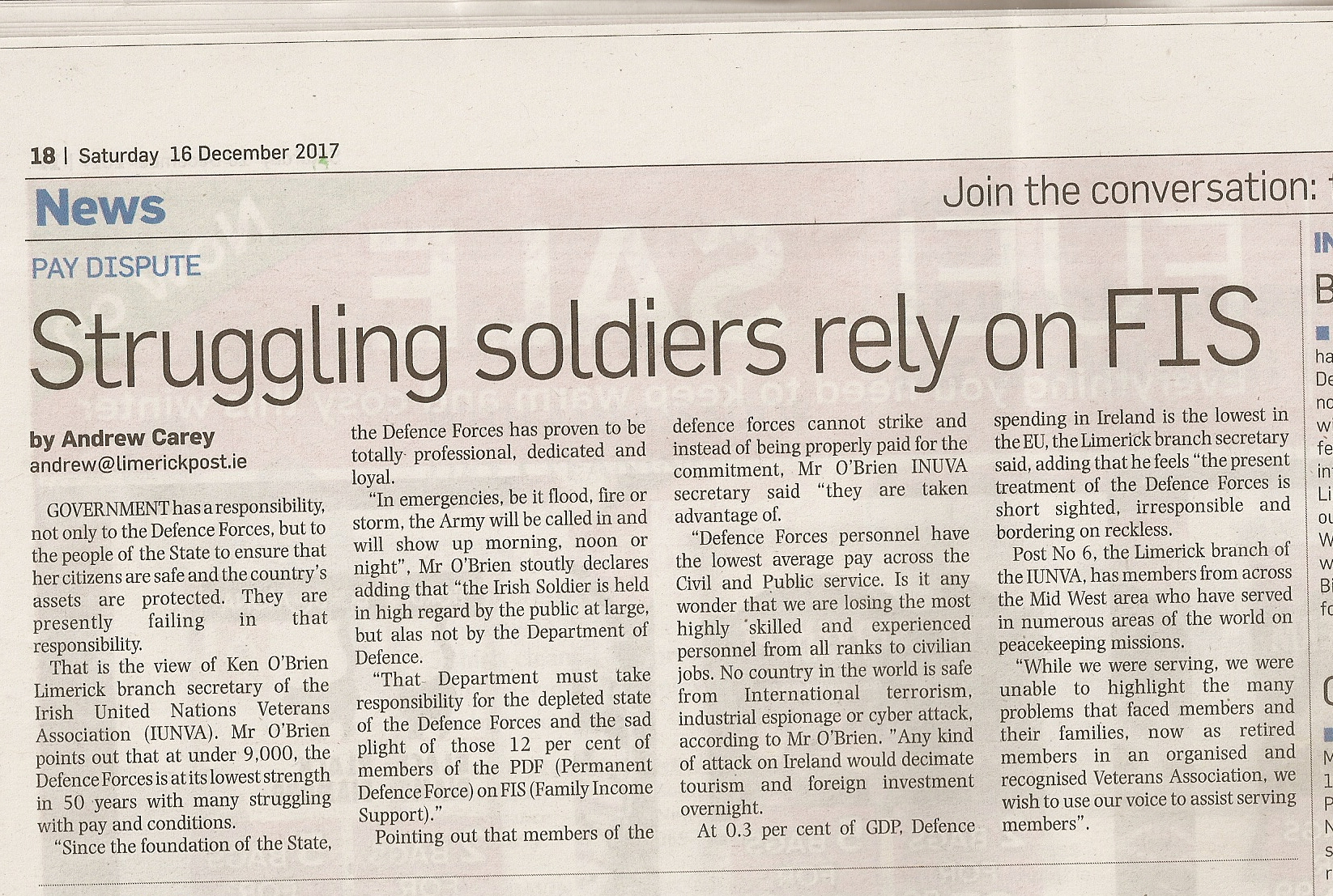 Post 6 News Updates
Currently we do not have contact details for all our members, we are trying to correct this.
If you are not receiving text notifications, please contact Ken OBrien
_______________________________________________________________
It was passed at Annual general meeting, that all Post No 6 members must pay a Post fee of €6 per year, this is on top of the Annual membership fee €24, which most members are paying through their pension. This €6 can be paid to any committee member. If you are unsure of your payments, please ring me on 086 3488118.
____________________________________________
Post No 6: News and Activities
Part Time Courses:
Are you interested in taking up a part time course. We have added a link on the Links page to fetchcourses.ie.
There are courses for all interests.
Post No 6 Newsletter
Thursday 27/April/17. Post No 6, launched a Post Newsletter.
This is published every 2 months, with the intention of keeping members informed
.
The Newsletter can also be seen on this site, latest issue Volume 3 Issue 1.
To access the page, click on the IUNVA Limerick Post No 6, heading and in the drop down menu click on Post No 6 Newsletter.
Tesco Community Fund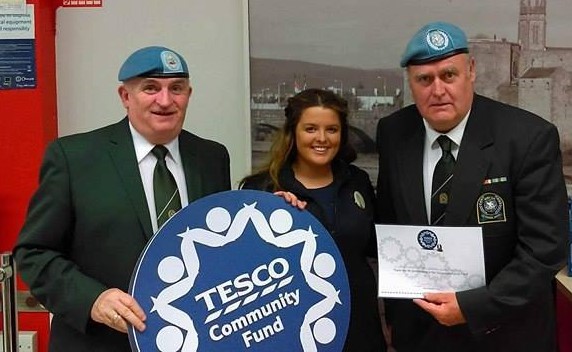 Post Chairman Tony Ledger and Secretary Ken OBrien receiving a cheque from Caoimhe on behalf of the Tesco in the Community Fund, in Arthurs Quay.
This is part of the Tesco Community Fund assisting Clubs and Causes in the locality.