Photograph of Limerick, by Dermot Lynch.

If there are photographs or articles about you on this site and you wish to have them removed, please contact me on +353834284453.

This is in conjunction with General Data Protection Regulations.
You can also send an email to post6secretary@gmail.com.
Coffee Morning
The next Veterans Coffee Morning in Sarsfield Barracks is on Thursday 30/November at 10.30am in the NCOs Mess
Post 6 Newsletter
Vol 4 Issue 5 of the Newsletter will be available in December 23.
Post 6 Meeting
The next Post meeting, will take place on Thursday 30/November. Venue NCOs Mess, Sarsfield Barracks at 11.30am.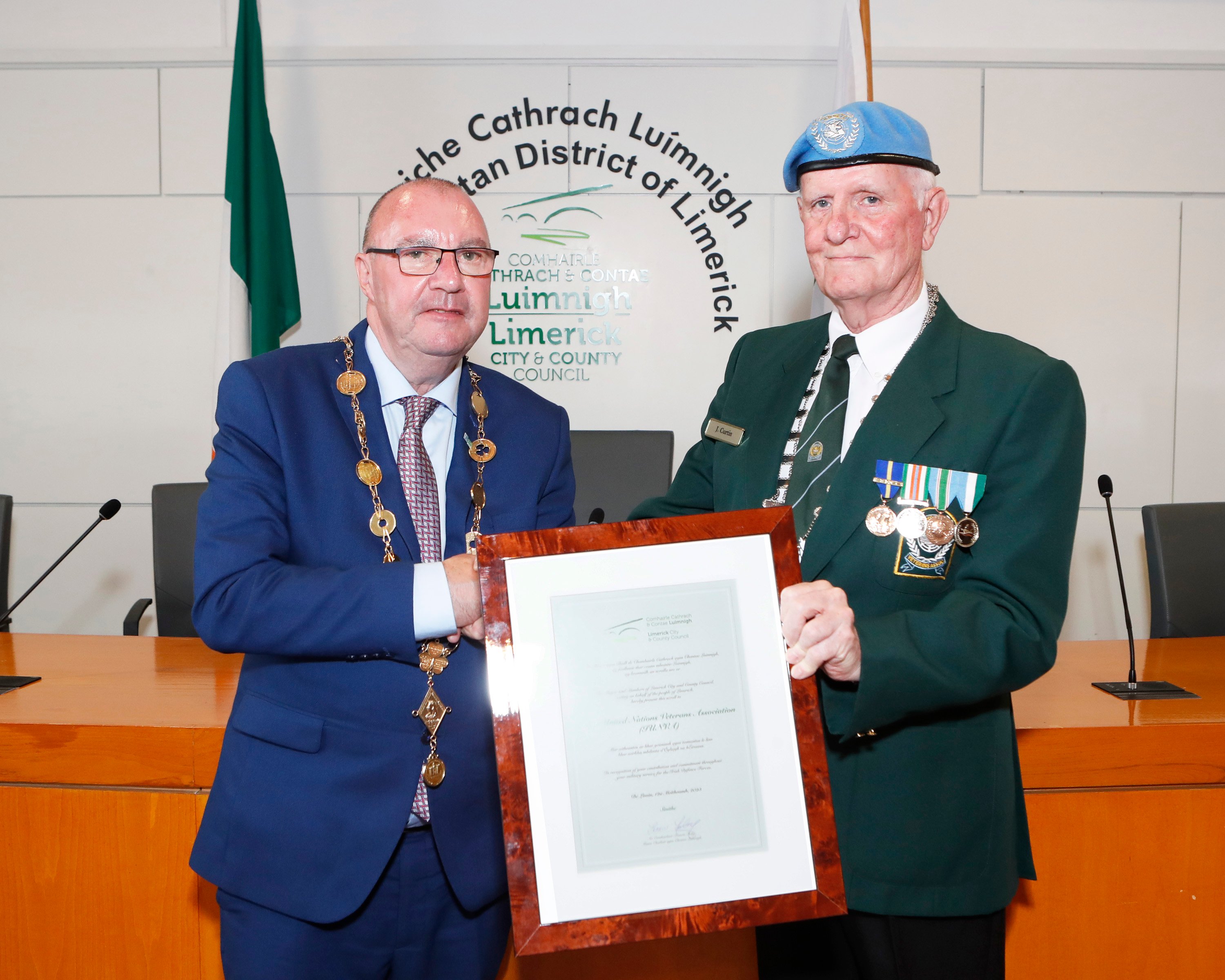 Mayoral Reception for Veterans of IUNVA and ONE


On Monday 12th June, the Mayor of Limerick City and County Council, Mr Francis Foley, hosted a Mayoral reception to honour members of IUNVA Post 6 and ONE, Patrick Sarsfield Branch to mark their service at home and abroad.
Photo shows Mayor Foley presenting a scroll to Post 6 Chairman Joe Curtin to mark the occasion.
Post 6 to set up Care/Assistance group


Post 6 are aware that some IUNVA members and Defence Vets are struggling to attend Hospital appointments, outside their nearest Hospital.

This difficulty in getting to appointments or getting medicines delivered, can be very upsetting.
Depending on the numbers, we would hope to extend the service to include visits to housebound Vets as we go forward.
With this in mind, we are asking the wider Vet Community to consider, volunteering their services.
We would compile a list of volunteers and rotate this each time we call on you to assist.
We understand that you might not be available when required, but the person that is available, would be moved to the bottom each time.

If you can help us, please ring Ken OBrien on 083 4284453. This is the Post 6 phone number.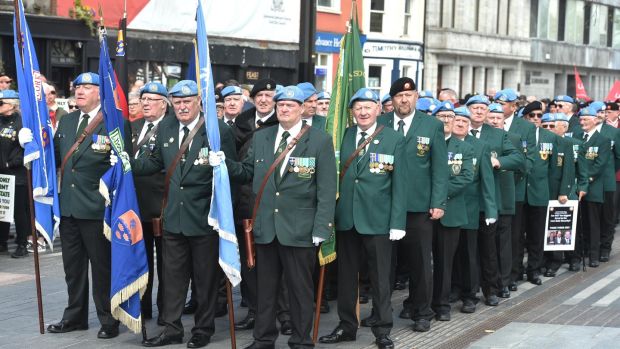 Attending the Respect and Loyalty Parade in Cork City on Saturday 04/May/19


When visiting the www.iunva.ie page, you can return to iunvalimerick by scrolling the News page to the links subpage, there you will see Post 6, click on this link to go to the Post webpage.
You can visit www.iunva.ie by following the link on the links page.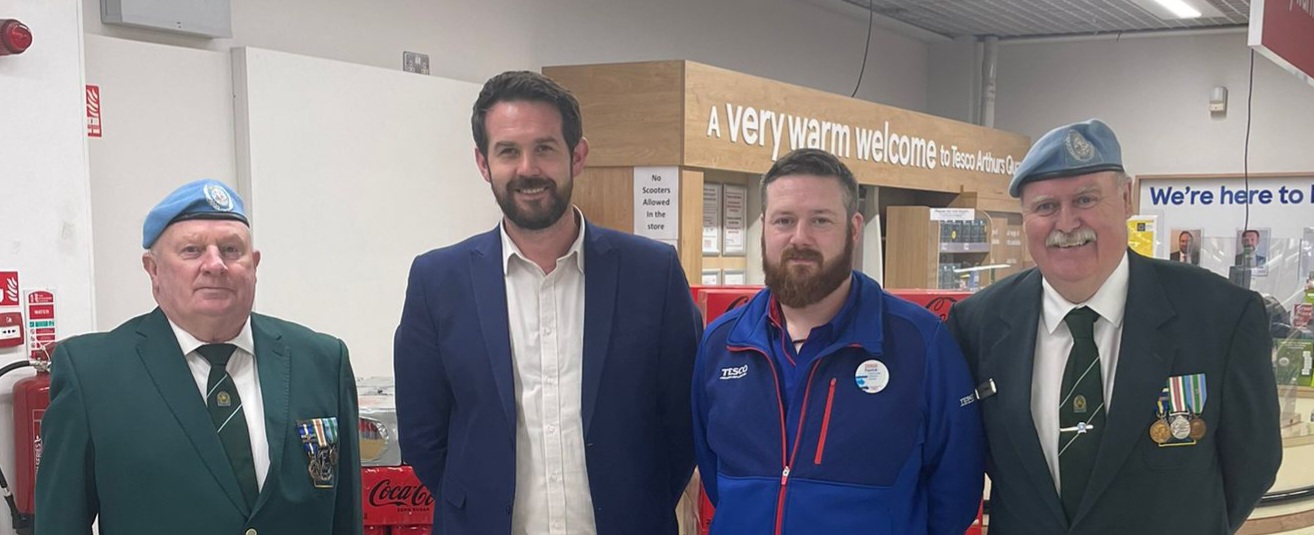 Recently, Post 6 received a cheque, from the Tesco in the Cummunity Fund. Pictured are Pa Hogan and Ken OBrien of Post 6, who received the cheque from Pat Kelly and David Broome of Tesco, Arthurs Quay, Limerick.
Not getting updates from IUNVA or your Post
Are you a member of IUNVA, paying your fees through your pension.
If so and you are not getting updates from your local post.
It may be, because the Post is inactive, you can contact Ken OBrien on 083 4284453 or IUNVA HQ to check your present status.
You may be a member, but your details might not be up to date.


Post 6 News.
IUNVA Membership of €24 and Post Fees of €6 are due.
These fees must be paid by 31st of December each year. Please note that failure to pay these fees could result in your membership being cancelled. Those that pay membership through their pension are required to pay the Post fees of €6, to the Post Treasurer.
While all those that pay membership fees to the post, are required to pay Membership and Fees of €30 to the Post Treasurer. We will send a text to each member in the coming days.


Text and Email scams.
A number of people have been on, saying they are not getting texts or notifications. Please check that your mailbox or voicemail box is not full. You should clear these on a regular basis as you have only a small storage space. If you are not getting any messages from me, please contact me and we will try to sort it out.

Fraudsters are still attempting to scam people and their methods keep changing. Please be aware and do not accept request for money through texts or emails. Also do not reply to any calls from numbers, that you are not sure of, if the person is genuine, they will leave a message or send you a text. At this point we must assume that a call or text, is not genuine until we check it out.

Please do not reply to any calls from these numbers, if you do not know who the caller is. This applies to voicemail and also emails. If the person calling has not made themselves visible to you, please block the number and if necessary contact the Authorities or Gardai.

For those of us feeling anxious and lonely, the HSE have added a contact number for those of us who wish to speak to someone about our problems.




Text Hello to 50808 day or night, someone will contact you to discuss your worries, or if need be, feel free to ring Ken on 083 4284453.


Changes to Military Pension Help Desk.

See Vol 3, Issue 9 for the latest changes to the NSSO contact details.
Phone Number 0818 107100, select 4 for Military queries.


On the drop down link on this page, is the Post Newsletter.
You can check on what is happening or get information on subjects that might be of interest to you.
If you wish to have the Newsletter mailed to you, please forward your email address to Ken OBrien
_______________________________________________
ANSAC Credit Union
ANSAC CU, who sponsor our Newsletter, offer a number of services to members. If you are unsure of what to do, give the office a ring and the very helpful staff will guide you through your options.

03Post 6 Annual General Meeting 2023.
At the AGM, the following were elected to serve as the Post Committee, for 2023.
Chairman: Joe Curtin.
Secretary: Ken OBrien
Tresurer: Joe Hayes
Clothing Officer: Rama Walsh
Committee: Pa Hogan, Cyril Shanahan.
Delegates to National Meetings: Ken OBrien, there is a vacancy for another Delegate and reserve Delegate, to represent Post 6 at the Delegate meetings.
In order to ensure maximum attendance at Post Meetings, we have arranged with the NCOs Mess to hold our meetings at 11.30am on the last Thursday of each month. This was following requests from a number of members.
New or Lapsed Members

Post 6, would like to welcome any new members that wish to join IUNVA, or indeed welcome back any lapsed members.
Serving members of Defence Forces may join IUNVA.
A Veteran does not mean a retired Soldier, in this case it means, a person that has Served Overseas with the UN.
If you wish to join or rejoin, contact any current Post Member, for details. Post No 6 would like to build on its current strength and would welcome any help in that matter.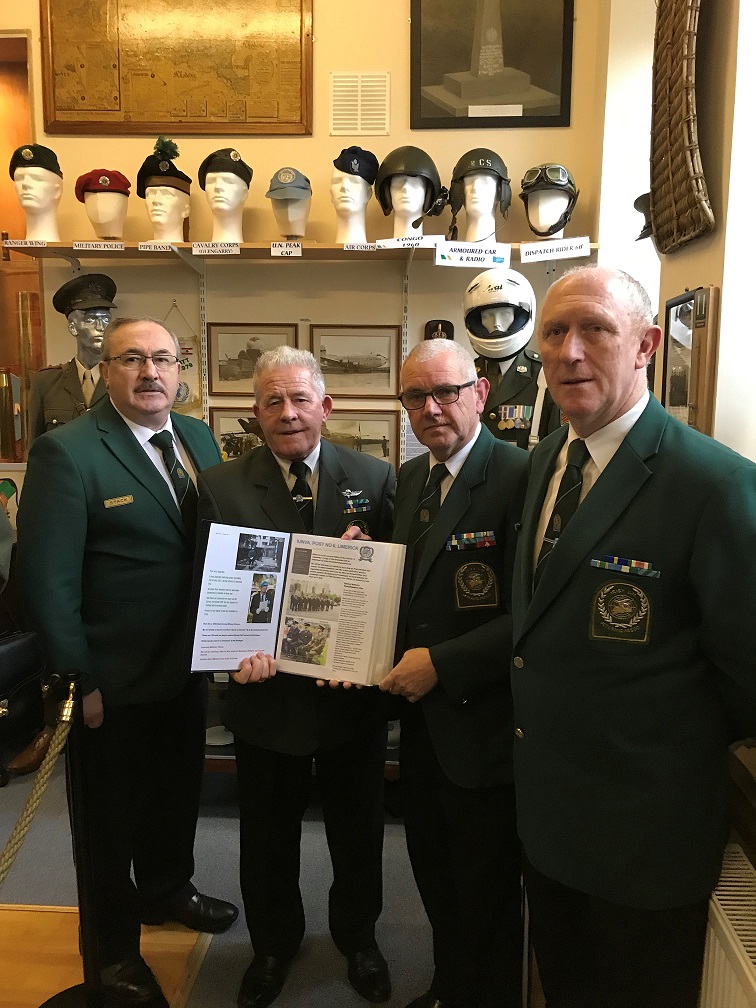 At the handover of the Post No 6 Newsletter to IUNVA HQ for the Museum, Tony Stack Post No 6 Delegate, Jim Casey IUNVA Chairman, Tony Liddy Post No 6 Delegate, Charlie Mott IUNVA Secretary.
The Newsletter is issued every two months and is also available on this website or can be emailed to individuals.
For details contact Ken OBrien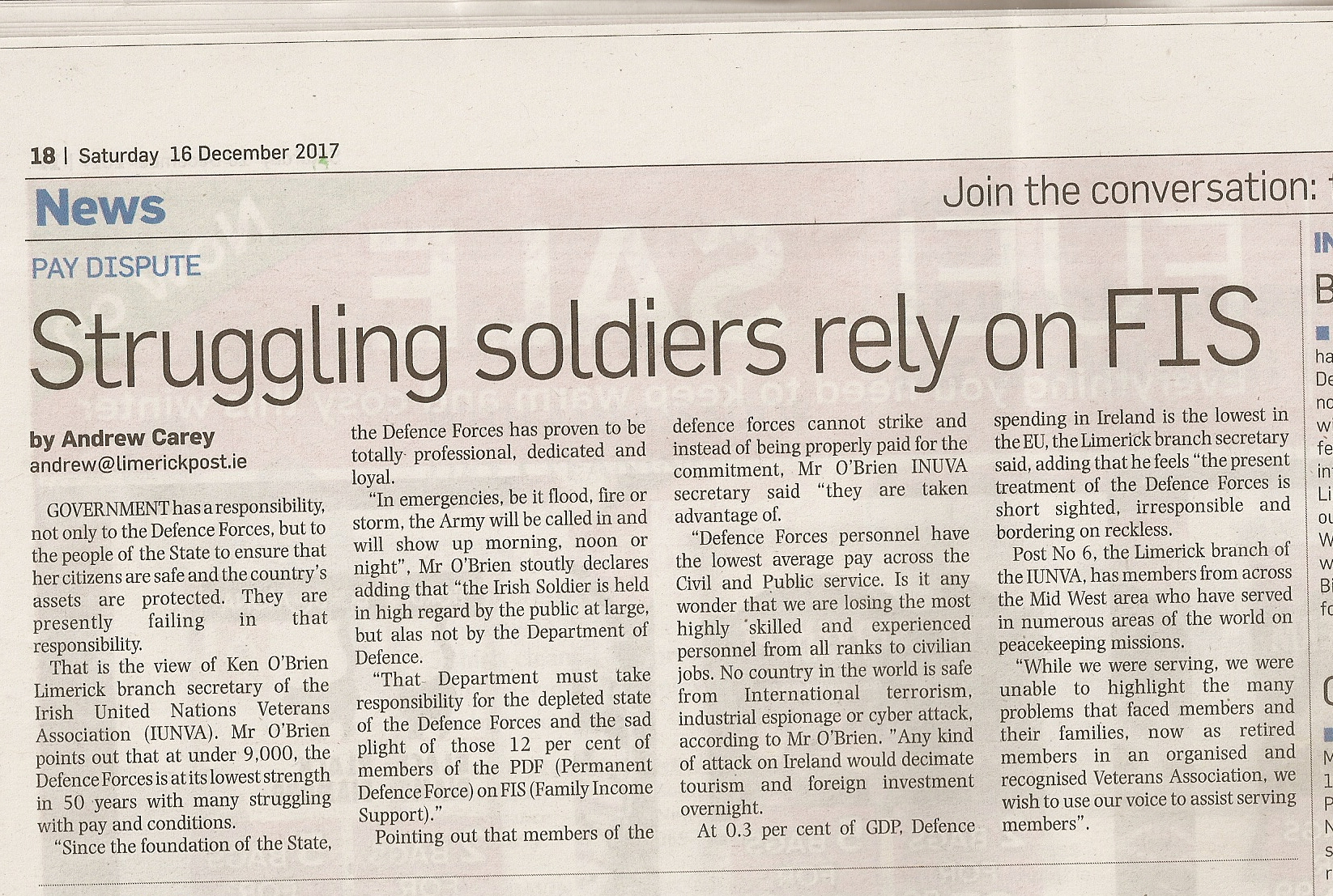 Post 6 News Updates
Currently we do not have contact details for all our members, we are trying to correct this.
If you are not receiving text notifications, please contact Ken OBrien
____________________________________________
Post No 6: News and Activities
Part Time Courses:
Are you interested in taking up a part time course. We have added a link on the Links page to fetchcourses.ie.
There are courses for all interests.
Tesco Community Fund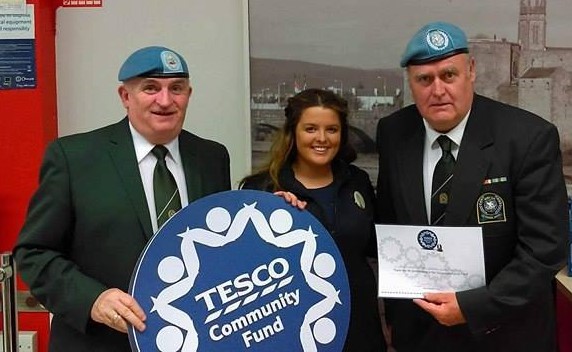 Post Chairman Tony Ledger and Secretary Ken OBrien receiving a cheque from Caoimhe on behalf of the Tesco in the Community Fund, in Arthurs Quay.
This is part of the Tesco Community Fund assisting Clubs and Causes in the locality.